Bastien Borsarello
Bastien Borsarello was born in Paris in 1990. With a German mother and a French Father- Bastien has benefitted from being raised bilingual. Bastien has always felt close to his Mother's country Germany.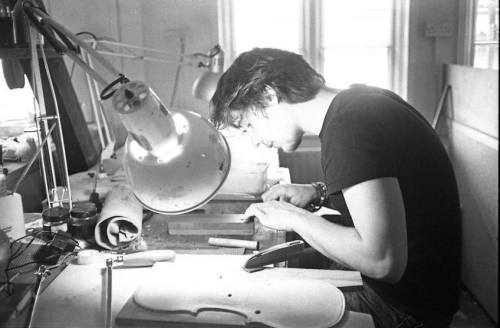 Bastien's earliest opportunities with the professional world of classical music started with his family. At an early age he was playing the double bass and later developed an interest in instrument construction.
At the age of eighteen he was introduced to violin making through the expertise of Philippe Miterran in Bourg-la-Reine. After finishing school, he starded work at Patrick Charton's workshop, a renowned double bass maker in Paris. Two years later he decided to apply for the Newark School of Violin making, although he first sought further experience in instrument construction.
In order to develop this experience, Bastien worked in Bavaria with Dominil Hugnagel and Franck Ravatin in Vannes. He was offered a place at Newark within this year and began to study in Septemeber 2010. His experiences of the course have been influiential in his professional work and personal life. With so many students at Newark from all over the world- and their openness and willingness to share methods and opinions- Bastien had found a rich diversity no other school could offer. In 2013 Bastien Borsarello has opened his own workshop with focus on making instruments but also provides all services for the quartet instruments. Since 2019 his workshop is located in Avon.
Alexandre Cremet
Alexandre Cremet was born in 1987. He discovered his passion for instrument making while studying applied arts. In 2006, he builds his first instrument in Franc Huber's workshop.
Three years long he learned cabinetmaking, ornemental carving and marquetry; as well as many restoration and instrument making projects, one of them rewarded by a SEMA prize in 2009.
Following the advice of Andrea Frandsen and Patrick Robin, Alexandre started studying at the Newark-on-trent violin making school. In these four years he improved his knowledge of intrument making and restoration.
With a growing interest, he worked in several english workshops (Devon string workshop, Phillip Brown, ...) and later in Germany with Renate Fink.
Alexandre joined Bastien's workshop in 2015.
Benoît Le Roux
Benoît Le Roux has been practicing violon for the last thirty years.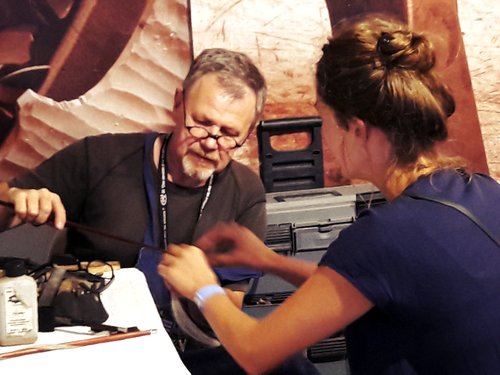 With the arrival of Jean Grunberger in the city of Angers, his hometown, his carreer takes a new turn and he starts with the bowmaking. After several work experiences with Jean Grunberger and Nelly Poitevin he persuits his skills for two years in Gilles Duhaut's workshop.
Since 2016 Benoît develops his own bowmaking and has different partnerships with shops in Angers and Paris.
In January 2019, a new collaboration starts with the maker Bastien Borsarello in Fontainebleau/Avon.